Dutch philosopher Desiderius Erasmus coined the immortal phrase 'prevention is better than cure' more than 500 years ago. His point is being proven every day in UK hospitals as they battle against Hospital acquired infections (HAIs).
Taking the fight to the front-line is Marlux Medical, a global innovator of disposable privacy curtains. The UK-based company engineered one of the world's first products in this vital area in 2003.
The built-in antimicrobial technology in their quick and easy to install curtains directly addresses the concerns and needs of healthcare professionals worldwide.
Environmental surfaces, such as curtains, that are frequently touched play a critical role in the chain of transmission. Microorganisms contaminating such high-touch surfaces include Gram-positive and Gram-negative bacteria, viruses, yeasts and parasites.
Through their partnership with Microban® International, a world leader in antimicrobial technologies, and their own advanced manufacturing capabilities, MARLUX™ has been able to offer its PREVENT + PROTECT collection.
A study into hospital privacy curtains found that 92% are contaminated with bacteria in less than a week of regular use.1 In 1998, an outbreak of multi-drug resistant Acinetobacter baumanii in an intensive care unit in Birmingham, UK, was directly linked to contaminated curtains and dry fabrics.2
The innovative MARLUX™ range of disposable privacy curtains benefits from built-in, antimicrobial product protection at the point of manufacture. This has been proven to play a key role in the "statistical destruction of all microorganisms and their spores" up to Log Kill 6 (99.9999%), including Staphylococcus Aureus, Klebsiella Pneumoniae, E.Coli, MRSA, Pseudomonas Aeruginosa and Acinetobacter baumannii.
This results in a curtain that stays hygienically cleaner and fresher in-between cleans and/or refits and prevents pathogens from surviving on the curtain's surface. This provides peace of mind for healthcare workers, their patients and families in the battle against HAIs.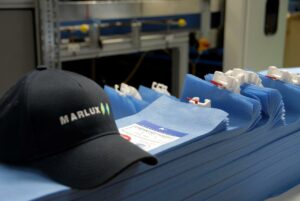 HAIs pose a major threat to healthcare institutions across Europe and are known to increase hospital stays. The European Centre for Disease Prevention and Control (ECDC) has reported:
– they result in 30,000+ patient deaths every year in the EU 3
– the six most common HAIs generate 16 million extra days in hospital each year 3
– the cost of HAIs is estimated at 7 billion euros 3
An ECDC study in 2018 4 estimated 33,000 people die annually in the EU as a direct consequence of an infection due to bacteria resistant to antibiotics. The burden of these infections is comparable to that of influenza, tuberculosis and HIV/AIDS combined and 75% is due to HAIs. Their desire is to see this reduced through adequate infection prevention and control measures.
MARLUX™ and Microban® are playing a significant role in the fight to reduce HAIs with their antimicrobial disposable privacy curtains.
---
Sources
1. Ohl, M. et al. (2012), Hospital privacy curtains are frequently and rapidly contaminated with potentially pathogenic bacteria. Am J Infect Control. 40, 904-906.
2. Das, I. et al. (2002), Carbapenem-resistant Acinetobacter and role of curtains in an outbreak in intensive care units. J Hosp Infect, 50(2), 110-114.
3. WHO Health care-associated infections FACT SHEET https://www.who.int/gpsc/country_work/gpsc_ccisc_fact_sheet_en.pdf
4. European Centre for Disease Prevention and Control News Story: 33000 people die every year due to infections with antibiotic-resistant bacteria. 5 November, 2018 https://www.ecdc.europa.eu/en/news-events/33000-people-die-every-year-due-infections-antibiotic-resistant-bacteria