PROTECT + PREVENT: Delivering antimicrobial product protection in Healthcare
The persistence of bacterial growth on high-touch products & surfaces continues to be a serious concern in healthcare facilities. The prevention and reduction of microorganisms is increasingly being presented as an essential element of wider infection control strategies.
In a bid to become an integral part of the overall solution, MARLUX™ Medical has engineered proven Microban® antibacterial product protection into its range of MARLUX™ antimicrobial 100% recyclable privacy curtains.
How does Microban® technology work in MARLUX™ antimicrobial disposable curtains?
Microban® silver ion technology is integrated into the non-woven polypropylene curtains at the stage of manufacture. The formulation works 24/7 to actively eliminate up to 99.9999% of bacterial growth on the surface of the curtain without sacrificing material durability or longevity. The result is a curtain that remains hygienically cleaner and fresher in-between cleans. It is also easier to keep clean and longer lasting.
Benefits of MARLUX™ antimicrobial 100% recyclable curtains enhanced with Microban® antimicrobial technology
Protected against the growth of antibiotic-resistant bacteria, including MRSA
Less likely to facilitate cross-contamination from surface to surface
Underpin existing hygiene measures within healthcare facilities
Have an extended functional lifetime
Remain cleaner and fresher in-between routine disinfection
Easier to keep clean
Antimicrobial properties are not diminished by harsh cleaning chemicals
Contain a non-leaching, globally regulated technology that has a long history of safe and effective use
After more than 35 years of use in numerous consumer, industrial and medical applications around the world, there has been no evidence presented of microorganisms developing a resistance to Microban silver technologies
While Microban® technology does not replace the need for regular cleaning, it is the best complementary strategy in the fight against Hospital Acquired Infection (HAIs). Common disinfectants have limited residual activity once the treated surface dries, and bacterial populations quickly rebound. Integrated antimicrobial protection provides a much more comprehensive and robust solution to surface contamination in hospitals, doctor's surgeries, and other healthcare environments. MARLUX™ curtains treated with Microban® antimicrobial technology can be utilised alongside thorough hand-washing practices, regular disinfection routines, and the correct use of medication to form part of the wider solution to infection control.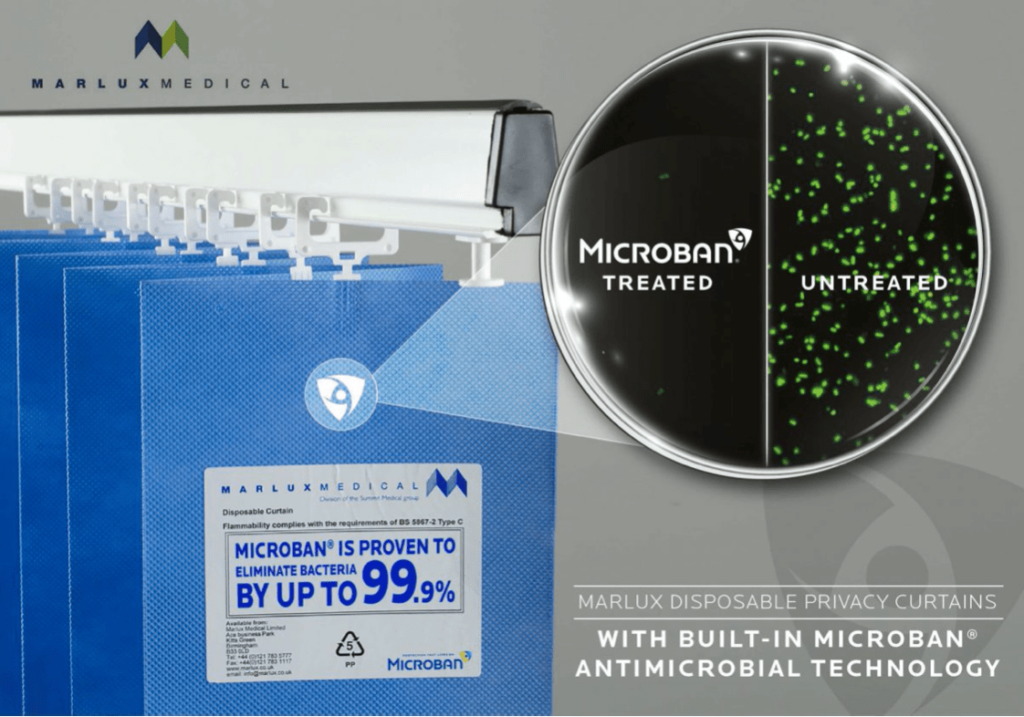 Is untreated polypropylene naturally resistant to the growth of bacteria?
The short answer is NO – untreated polypropylene IS NOT naturally resistant to the growth of bacteria. Polypropylene is commonly used by laboratories around the world as a "control" sample because it typically exhibits growth for both E. coli and S. aureus under ISO 22196 / AATCC TM100 conditions.
Integrating a regulated antimicrobial additive into polypropylene is a scientifically proven way to actively reduce and inhibit bacterial growth on the surface of the material.